Sunday, March 28, 2004


To Andy, and whoever else is complaining because I'm not posting...

Folks, I told you I wouldn't have time to post! If you want a basic run-down, read Tim's blog. We're running around with Chrissy and Dave this weekend, running up to Loch Ness and...stuff. Consequently, that means not enough time to post. I'll get back to you after this commercial break. Go read some other blogs. Or your Bible or something.

Michaela

---



Wednesday, March 24, 2004


For those interested....

All is very well.

:)

---



Saturday, March 20, 2004


Adam's Girl

Hey baby I got this great idea
Give me a second I'll show you
We'll wake up in the mornin
Open the doors
And the birds, they'll shimmer in and out of the summer
But we'll be too busy baby
Just too busy

Well you know the things I love about you darlin
Like the way your hair falls when you write
In that notebook, the one you keep your dreams in
The one you keep to save all that you've been
Losing along the way

So in the mornin, darlin, we'll leave our bags
But take these hands
Along those barbed-wire fences
The ones you hated so much
The ones you cursed when we'd crawl between them
And on the other side, we'll drive
On the other side, we'll drive

They tell me they've got the castles of daylight on that side
Daylight, baby – I've forgotten what it looks like
But tomorrow we'll rustle up a new pair of eyes
Come on baby
Mama needs a new pair of eyes

Well you know the things I love about you darlin
Like the way you cover your cup of coffee
That cup you buy for five bucks at the discount interiors shop
The one that warms your hands
With the steam that twirls above
So that when you come home
So when you come home now, baby
You'll be alright

But tomorrow
Tommorrow ain't tonight
It's a great idea I got though, right?
Until then we'll make our plans
Lay here another night
And I'll tell you
I'll tell you over and over again
You'll be alright


---



Friday, March 19, 2004


I Like Your Funny.

Seriously folks. Peter's Blog is so freaking funny that it shames me. It makes me want to never blog anymore, because I know my blog will forever be sub-par to the funny that is The John Larroquette Project.

*Sigh*



---


Music and Memory

I love the idea and blessing of memory....I love how some things, especially songs and smells, can so quickly remind you of another place and time. Today I went to Black Medicine Coffee Company and sat reading til my butt was numb, all stuff I needed to read to write these essays that I should be writing at this very moment. (Don't worry. I will. ) Anyway, while I was there, "Brown-Eyed Girl" started to play over the sound system. And what did I think of? My friend Marian, and living on the ship, listening to Van Morrison in the cabin.

This led to contemplating different songs that bring up different memories.....

"Somewhere North" by Caedmon's Call: Summer after my senior year, before I left home, and a guy named Stephen.

The rest of Caedmon's Call's "40 Acres" album: Working at Bambeano's Coffee, sophomore/junior year of high school...

"Armed and Dangerous"/"I Am On the Rock"/Anything from the album "Beyond Belief" by Petra: Being 9 years old, sitting in my dad's car with Mom and Dad, at a Sonic, eating a burger, being amazed that the singer wasn't a girl.

"Gettin Jiggy Wit It" by Will Smith: Prom, sophomore year, with a really scary guy named Jimmy.

"Picture Perfect" (and anything else from "Change Your World" album by Michael W. Smith): Driving from Kansas City, Kansas, to the City Market, down I-70, in the family van.

"On My Knees" by Jaci Valesquez: High school, driving around with my former youth leader's wife, Chris Cole, her telling me how her husband Dave (my youth minister) didn't think the song was theologically sound.... (Now, 6 years later, I think he's right...)

"Anna Begins" by Counting Crows: On the ship, sitting on the Poop Deck, with my ex-boyfriend, Jon.

"Hanginaround" by Counting Crows: Driving away from the Counting Crows concert, "This Desert Life" tour, 2000, Kansas City, Munincipal Auditorium, with my friend Julia, proclaiming how we'd been "hanginaround this old town for way too long...."

"Sussudio" by Phil Collins: Speed walking with my mom, high school...

"Jesus He Knows Me" by Phil Collins/"Chattahoochee" by Alan Jackson: Eating with my family at Pizza Hut, State Avenue, Kansas City, Kansas...

Everything else by Phil Collins: Late night coffee talks at Denny's diner with Julia in high school, admitting our secret love for Phil...

"Get the Party Started" by Pink: Driving in Atlanta, spring of 2002

"Taken" by Plumb: Driving between Little Rock and Memphis, July 2003

"Rain" by Patty Griffin: Sitting in my car in the parking lot of Border's Books, in Lee's Summit...the first time I ever heard that song....

Whitney Houston's first album ("The One with the Gheri Curls"): Sitting in the car with my mom, waiting to pick up my dad from his job at GM, circa 1985, Michigan....

"Everything Changes" by Kathy Troccoli: Sitting in my loft in the Lee's Summit house, circa 1993

"The Champion" by Carmen: Being six years old, and going to a Carmen concert with my parents and my best friend of the time, Amanda, Kemper Arena,Kansas Citry (Shut up, I was excited....)

"Lucky One"/"Say You'll Be Mine" by Amy Grant:Running on the treadmill (volleyball training), 13 years old, in the basement of the Lee's Summit house....

"I Need Words" by David Crowder Band: Laying on my bed, crying, March 2002, OM base, Peachtree City, Georgia...

"In the Garden", traditional hymn: Sitting on a double-bench swing with my mom, aunt, and great-grandma, singing, at my aunt and uncle's farm in Butler, Missouri, circa 1991

"The Nothing Venture" album, by The Five O'Clock People: on a mini-bus from a bush dance at a church outside Sydney, Australia, on the way back to the Doulos, talking to Luke Glasset about his love for this band...

"Jesus Is Still Alright" by DC Talk : L-Bar-C Camp, 1994 (?)

"Grey Street" by Dave Matthews Band: Living with my aunt and uncle, Greenwood, Missouri, summer of 2002

"Fool to Think" by Dave Matthews Band: Drydock on the Doulos, April 2001, Singapore

Anything by Bjork: Riding to class my junior year with a girl that wasn't a friend, and didn't actually like me, but was nice enough to drive me to school anyway.



That should be enough for now...I'm sure I could think of some more if I tried....

If anything shows my "contemporary American Christian" upbringing more than that, I'm not sure what is would be....


What about you guys?

---



Wednesday, March 17, 2004


In case you were wondering what I've been watching these days....

Thanks Chris, for letting me borrow your DVD.....

(Ahhh, the childhood memories....)


---



Saturday, March 13, 2004


Well now that's kinda freaky.

Not only is that book a favorite of mine, I just bought it for Tim for Christmas.

Crazy.

(And another quiz for you, Amy!)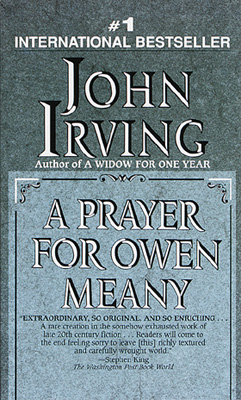 You're A Prayer for Owen Meany!

by John Irving

Despite humble and perhaps literally small beginnings, you inspire
faith in almost everyone you know. You are an agent of higher powers, and you manifest
this fact in mysterious and loud ways. A sense of destiny pervades your every waking
moment, and you prepare with great detail for destiny fulfilled. When you speak, IT
SOUNDS LIKE THIS!


Take the Book Quiz
at the Blue Pyramid.
---



Friday, March 12, 2004


ACTUAL conversation that occured between Ruth and I this week:

Mic: A friend of mine got to go backstage when The Hives were in town. She got pulled out of the crowd just because she was hot. She *is* pretty hot though, so it made sense."

Ruth: "Yeah. I've only gone backstage at one concert, ever. "

Mic: "I've done stuff backstage at random small-name shows, usually Christian folky...acoustic...musicians."

Ruth: "The time I got to go backstage was a bit jammy anyway, it was only because I was friends with the guy who was their road manager at the time."

Mic: "Yeah, you're right. Jammy. What band was it, though?"

Ruth: "Oh, it was U2."

*Michaela proceeds to pass out on the floor.*

So unfair. I don't think Ruth even LIKES U2.



---



Wednesday, March 10, 2004


Father Dowling Mysteries

So my daytime TV watching has led me to a newfound understanding of Father Dowling Mysteries. I say "understanding"....but I actually think that I'm more confused than ever.

1) Father Dowling has an EVIL TWIN! I'm not kidding. He's got an evil twin who was in jail, tried to set him up, tried to kill him. YET...Father still forgave! Can you feel the love?

2) Father Dowling has a LONG LOST SON!!!! Yes, its hard to imagine that sweet old man ever getting jiggy with anybody, but apparently, back in the day, he did. The story goes that just before Father was supposed to enter the seminary, he met a beautiful young girl whose name I've forgotten. He said he would give up the ministry for her, proposed marriage, and she accepted. They had one crazy week of passion, and she then left him, told him that she could never live with herself if he gave up his true calling for her. He never saw her again. 30 years later, in one of the episodes where he's chasing some bad guy for some reason, he somehow meets his son. (Whose mother has now passed away.) The following awkward conversation ensues between Father (ha! Oh the irony!) and son:

Father: "So.....do you like baseball?"
Son: "No."
(Father looks downcast.)
Son: ".....I LOVE baseball!"

All is well! Happy times are here again! Sorrow and sadness has turn glee and laughter! HA! He LOVES baseball! They can be friends! Pals! Mates! Baseball buddies!

3) I was thinking today.....why does Father Dowling and Sister Whatsherface spend all their time catching mobsters? Don't they have a CHURCH to look after? Most priests are going around, visiting the old folks the hospital, performing last rites, weddings, funerals, listening to confession, giving mass, that kind of thing. But not Father Dowling and Hot Young Nun! They're busy chasing after mob bosses threatening to take over the local root beer company and sell the secret recipe to Japanese buyers! They're busy foiling the plans of scary men trying to kidnap the daugther of the local mayor! Who has time for confession? Not these two!!

I mean REALLY, Father. Is this the kind of encouragement we should be giving to those in ministry? I think not!

I always thought there was something fishy going on with him and the nun girl anyway.

Hey, at least its not The Streets of San Francisco though. Anything but that.

In non-related Ironic News of the Day: Am I awful to have laughed at the (non-recognizable) road kill on the street outside the Lothian Small Animal Hospital?

Man, he ALMOST made it, too.





---



Tuesday, March 09, 2004


Books

One of the things I love about my college is its library. It's not huge, but its sizable - they tell us 35,000 volumes, but that number was a few years ago - considering our small Bible college of about 200 students. But I love - LOVE - to walk through the library, letting myself get overwhelmed at the amount of material we are capable of reading at any given moment. I love the smell of libraries, the quietness. I love sitting in the middle of an aisle in the very back and just hiding away: myself and a shelf.

Any one of these books I could pick up and check out and learn more about my faith. Yet there are so many places that can't even get ahold of a Bible in their own language.

Kinda puts things in perspective.



---



Monday, March 08, 2004


In The Rooms of Whitechapel

Caught a lovesick sailor last night in the bar
Said he'd never met a girl like me before
Trapped on the winds and the waves much too far
Wished he could land his ship on the shore

He never did look me straight in the eye
Never stopped fiddling with the bottom of his glass
Says he never could tell a truth from a lie
And each drink he was sure it would be his last

We sat there alone most 'o the night
'Fraid of leaving the other to whoever else we'd see
Waiting to hear what might be an invite
Both wanting to go, but never stooping to plea

But that lovesick sailor, his busted eyes fell
He let that bottle beat him, broken and bruised
And this young girl ventured back into her cell
Morning broke on another day she would wait to be reused



---



Saturday, March 06, 2004


Back in the Day Part 2

I'm sure you guys are going to be annoyed at me, but I can't help myself. My grandma just sent over 30 copies of pictures to me, so I'm feeling the need to share some of them. They make me smile. :)

First one: This is definitely one of my favorite pictures of my little brother, ever. He's almost 14 now, which freaks me out, but this was when he was probably about 2. Its just classic. Don't mess with HIM!!!!

Second one: This is by far my favorite picture of my mom, back from when she was about 17 or 18. It just epitomizes her completely. I love going out with my mom, sharing a beer and a laugh. I definitely consider it a blessing that my mom is one of my best friends.


---



Friday, March 05, 2004


Back in the Day, Yo.

My grandma was great enough to send me some copies of pictures I asked for last time I was home. There are a lot of my family, but a few of me as a kid. When my grandparents were living in California, we visited them twice, when i was 3 and whan I was 6. All these are from the trip when I was 3.

Top: Mom, Grandma, and me, at Huntington Beach.
Middle: Grandma, my uncle Mike and Aunt Susie, Mom and Me
Bottom: Me and Mom in grandma's pool.....

Good times.


---



Thursday, March 04, 2004


Work.

A few people over the last few days have said, more or less, "Michaela, the blog is starting to suck." Well, people...I'm SORRY. I explained that would happen. I've been crazy-busy the past two weeks. Besides, I've had long periods of lack-of-posting before and no one complains. You're so stinkin demanding! I GIVE AND I GIVE AND.....

Anyway.

I have about 10 minutes to kill before my next class. Morning was groupwork, but we've been doing ennegrams/personality types....which seems like a stretch from "groupwork"....but whatever. Afternoon class is Urban Theology, which I love.

But Kristin, of the Goldfinch type, has requested that I share a little bit about my work and studies. I know a lot of you know about these, but alot of you don't, too. So she had a good idea there.

I'm currently studying "Youthwork with Applied Theology" at International Christian College, in Glasgow, Scotland. How this American girl ended up studying in Scotland is another story for another time. ;) The course consists of 20 hours of youthwork in a job placement per week, plus two days of classes (2 classes each day). At the end of three years (I'm 2/3rds of the way through my second year...), I shall hopefully walk away with a BA in Youthwork w/ Applied Theology.

So to go into a little more detail....

My 20 hours a week in placement are spent as the youthwork coordinator for the Penicuik Churches Youth Project, just outside of Edinburgh. Through this, I end up doing all sorts of youthwork - On Monday nights I'm busying doing detatched street work, Wednesday night I run a small youth club for the church kids, Friday nights I staff the Youth Cafe at the community centre, some Sundays I help with Tribal Generation, which is our youth praise service, etc. Add to this some occassional schools work, a separate agency placement this term in another town working in schools, event coordination for our fun times, sitting on the Youth Interest Group Committee, and helping the kids in the Pentland Valley Youth Forum.

Its good stuff, really. I have the normal Youth Worker allergy to all things organizational, so me and the boss (who is BIG into details and organization) bump heads sometimes. Its not without a fair deal of stress, especially on top of college work. But I know its where I'm supposed to be right now. Sometimes I can only see that REALLY clearly in my relationships with a few kids, but I think that's okay. There are two girls I work with now, and I know I'm making a big difference in their lives. If I am only here for those two girls, that's okay with me. And I know there's more than just those two girls....

College is interesting. Honestly, if I had to do it all over again, I'd have taken the Theology course instead of the Youth Ministry course. I enjoy the theology classes much more, and I know a lot of the youth work classes are very UK specific .(And I don't plan on staying here after college.) A lot of students on the course say that, actually - even the UK students. The main issue would be that I would be able to focus on my studies instead of being pulled between study and the youthwork, with 10 hours of bus travel a week in between. That's a big problem for me. Life goes on though. Only just over a year to go. And when classes get a bit much, I try and remind myself that a lot of people aren't able to get the education - especially Bible education - that I'm able to, and I should be thankful for that.

So.

Any questions?

:)


---



Wednesday, March 03, 2004


Blogging for Fun and Profit....(minus the profit)....

You know you want to.

Take my Quiz on QuizYourFriends.com!

---



Tuesday, March 02, 2004


At least 2-3 times a day, I have an idea about what to blog. At the end of the day, I either don't have time or can't remember anything.

I'm REALLY sorry.

I'll think of something.

Or remember something.

Or something.



---